About Us
---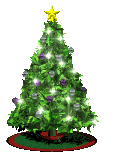 The history on our lights goes back over 20 years. It all started with a single lighted "Merry Christmas" sign in a studio apartment window. That year I experienced my first 75% off sale. Well, it was on from there. Every single year I would buy more and more.
When Stella and I met in 1999 we were both living in the same trailer park. Stella was amazed at how many lights you could put on a trailer...GET ER DONE!!
We were married in 2001 and our lights have moved from Michigan, to South Carolina and finally to Florida.
In 2007 we decided to go computerized using Light-O-Rama. We had a friend up near Tampa that showed us how he did it and I was hooked. The advice to start out small was not taken well, though. We bought 8 controllers our first year and my light count jumped to over 62,000. It was also the year my Merry Christmas sign from 20 years ago retired.
There was a lot of pressure to get it all done on time, but we managed. We even had time to put together a small Halloween show. The turnout was unbelievable. We were averaging about 100-150 cars a night and that went over 200 when it hit the front page of the news press.
Since that first year in 2007, we are seeing many return customers. We get to watch the kids grow up and have many new friends. We now average about 200 cars per night, but in the days before Christmas that goes up to close to 800 or 1000. We look forward to many more years of spreading the Christmas cheer.